Last Updated on September 29, 2021 by Cristina
A gorgeous vanity caught my eye online and I decided to get it as a piece of decorative furniture and try my hand at antiquing a mirror with acetone. This aged mirror look would go very well with the vanity's overall aesthetic. There is something quite elegant about the cloudiness of antique mirrors. 
In trying to discover how to make a mirror look old, I had come across a few techniques. Some require more work than others, but all of them are highly effective at aging up a mirror. 
Antiquing A Mirror With Acetone Paint Stripper
The most common way of antiquing a mirror is by stripping its back layer. A few products that I needed to use were: bleach, paper towel, gloves, paint stripper, spray bottle, dark spray paint, sponge, putty knife.
The hardest part was taking out the mirror from the frame. There was always the option of leaving in the frames the entire time. The backing paper still had to be taken out to expose the grey paint that had to be stripped off. Before I started antiquing a mirror with acetone paint striper, I tested it on an old bathroom mirror.
Once ready, I applied a good amount of the acetone paint stripper on the grey part of the mirror. Then I spread it and made sure it was thick enough, as I did not want to apply it twice. After this, came the waiting, as per instructed on the bottle, which was between thirty to forty minutes.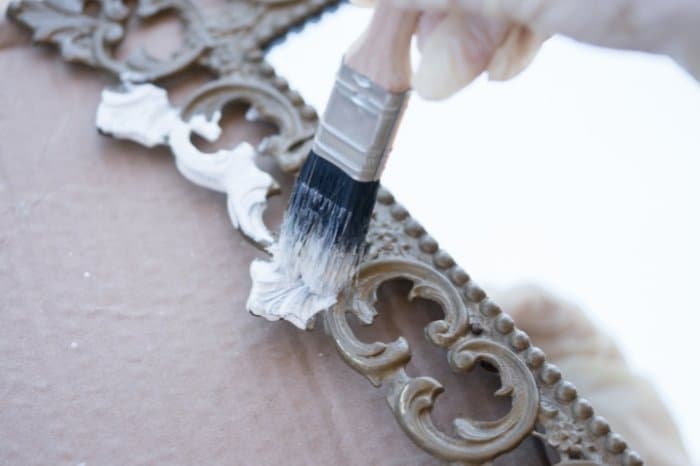 The messiest part of the whole process was now ready to begin. With the putty knife, I started scraping the grey paint, ever so slowly, fearing the mirror might scratch or break. Also, gloves come in very handy at this point. It took some time, but the coppery layer underneath started to show. 
Some meticulous light scaping was needed here, so as not to scratch this copper layer. Harsh scratches would show on the mirror side and not look as natural as desired. Eventually, with most of the grey layer cleaned, the next stage could begin. 
Using the spray bottle filled with three parts water to one part bleach, to then mist the back of the mirror. In looking up how to age a mirror, most results came with spots around the edges. That is how a naturally old mirror would start to look over time. It took some time for the bleach water to dissolve the reflective layer. 
At this point, the mirror can be left as it is, with blotches of reflective layers left transparent. Alternatively adding some paint on the back, really makes it pop, whether it's black or metallic silver paint. 
How To Antique Mirror From The Front
Some mirrors are glued in place or maybe antiquing a mirror with acetone requires too harsh a chemical. Whatever the reason, there is a technique that allows you to antique a mirror from the front. It mainly involves painting the reflective side of the mirror to give it an antique look. 
Some supplies needed for this are silver and black metallic paint, sea sponge, window cleaning solution with vinegar, paper, and cloth towels. Also, I decided to test out this technique on a few smaller mirrors, just to understand the medium better. 
A clean mirror is the best way to start so using that window cleaning solution comes in handy from the start. Using the silver and black metallic paint, I stamped the mirror with a sea sponge. 
Then I lightly sprayed some cleaning solution and dabbed it with a clean piece of sponge. This creates alternating textures with the silver paint. After that, a slight pat with a clean paper towel removed excess paint and vinegar solution. A few extra touches with black paint, as with the silver, added some dark patches. 
The result is an authentically looking antique mirror. The reflective surface is now cloudy with a few dark contrasting patches. Antiquing a mirror-like is very creative and barely costs anything. Everything is easily obtained and is just as easy to use, providing a way to antique any mirror. 
Since this method on how to antique a mirror uses paint, cleaning it will mean not using vinegar solution. To maintain the blurry surface any kind of chemical that might strip the paint should best be avoided.
Turn Glass Into Antique Mirror
Discovering how to make a mirror look old is also a journey that turned into how to turn glass into a mirror. The restrictions of how to age a mirror are gone, when you can simply make a mirror out of any piece of glass. Any old picture frame can be turned into an antique mirror, with a few supplies. First off a glass picture frame is needed, then spray paint with mirror effect. 
The difference with how to age a mirror-like this is that it's done as the mirror is made. Simply put, after the first layer of mirror spray paint, a light spray of water-vinegar should be sprayed. It eats away some of the paint leaving a beautiful old mirror look. After a few more coats of mirror spray paint, the process is complete. 
Rust-Oleum Antique Brass 260728 Universal All Surface Spray Paint
A technique like this makes it possible to turn any glass object into a mirror, with the effect of making it look antique. It skips antiquing a mirror with acetone and goes straight for making an antique mirror from scratch. It's quite a simple and inexpensive process and adds beautiful interest points to a home. 
Conclusion
Having an eye-catching faded mirror instantly adds personality to a home. It's a very inexpensive way of revamping a space without much effort. Whether antiquing a mirror with acetone or paint over it to make it look old, there is something particular about that clouded mirror look. 
There are plenty of available antique mirrors online, but it's just so gratifying when you do it yourself. Every little dot, splatter, and imperfection is an extension of your creativity. There is also the fact that each mark made to age the mirror is unique, adding to its allure.