Last Updated on November 26, 2021 by admin
If you are anything like me, where your design tastes can change depending on the money you have available (and you probably only have a dime to spend), contact paper can be a great option, in helping you transform a space easily and on a low budget.
Contact paper comes in almost every hue, pattern, or texture, you could ever want. And the good part is, it can be used everywhere from your bedroom to your bathroom.  Thus, if you find yourself wanting to transform some 80's style pink kitchen cabinets or giving an old picture frame some new life, contact paper can be a great, mess-free alternative to painting.  
To add to its list of endless benefits, contact paper is removable and therefore rental friendly!  The only sticky thing (pun intended) is that it can be difficult to work with on certain surfaces, namely wood.  So how do you get contact paper to stick to wood?  
Clean Your Canvas
Contact paper is self-adhesive, kind of like a post-it note, that can be applied to a variety of surfaces, so long as the surfaces are squeaky clean.  That's why, those having a hard time getting the paper to stick to wood, may want to check and ensure that the surfaces have been cleaned with soap and water.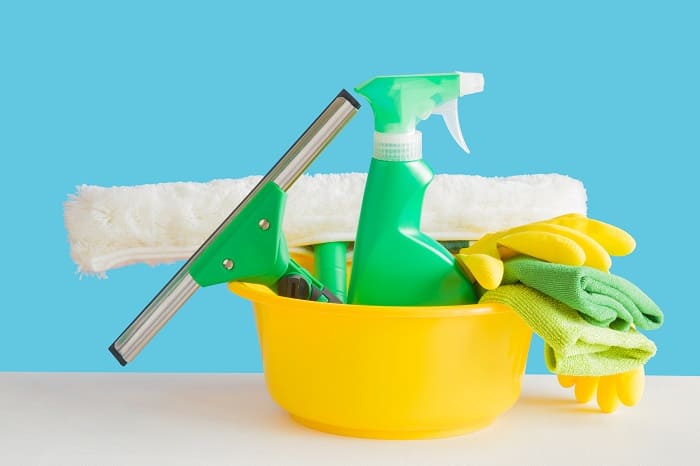 This is particularly important in kitchens, where grease can build up on surfaces over time and may take a particularly good scrubbing to provide an ideal surface for the contact paper.  Once you are done washing, make sure you allow your surface to dry before attempting to apply the Contact Paper.
Sand It Smooth
Wood surfaces, particularly those you are looking to transform, often have bumps or ridges inherent to the wood or that have occurred over time. Normally, because of its thin design, it is often difficult for contact paper to stick to uneven surfaces or any surface that lacks a smooth pattern.  
As such, before applying the contact paper, ensure that the surface is very smooth, of which you can achieve by scrubbing the surface with things like sandpaper.
Weirdly Enough…Windex!
According to Youtuber SuperHolly, Windex can help you to smoothly apply a contact paper to your wooden surface. If you apply a generous amount of Windex to your cleaned and smoothed surface, this will help you to place your contact paper with a little less stress!  The Windex allows you to slide your contact paper into shape, before committing. And while this is done, make sure that you sand your surface free from unwanted bumps and ridges. Once you are happy with your contact paper placement, you can then squeeze the Windex out from underneath, and have your clean and transformed space.
Any time you are looking to do a little DIY without much commitment, contact paper is a wonderful alternative to the hassle of paint or the cost of replacing cabinets or counters.  When applying to wood just make sure that you: 1) clean your surface, 2) sand the wood smoothly, 3) add a little Windex for a hassle-free application, and 4) enjoy your transformed space!
Will contact paper stick to particle board?
Yes.
So long as there is no wax, varnish, or sealer of any kind on the particle board, it should stick to it reasonably well. The only issue with using contact paper to get floors looking nice is that eventually tape gets old and starts coming up without residue left behind, so get ready for new flooring 6 months after installation!