Last Updated on February 24, 2020 by Ecorf
Some flowers can endure the summer heat, and others may wither at the touch of the first ray of sun. The composition of the flowers in view is based on their features, which make less susceptible to the excessive heat that comes with summer.
Growing Flowers that Survive in Heat
Are you a gardener or a flower lover? Do you have a garden where you intend planting flowers or you want to discover the flowers that survive in the heat? Look no farther because we have the information you seek. Below are some of the flowers that can thrive both in summer and in hotter weather conditions.
Sometimes, it's not all about discovering those flowers that can survive in the heat. In some cases, it's essential to identify the ones that can factor in both summer and winter. That informs the reason why the Moonflower is the gardeners' favorite because of the versatility. It can thrive both in summer and in fall.
On the other hand, Moonflower, which is up to 15 feet when blossomed, brings forth large and fragrant pure white flowers that are pleasing to look at.
There's a need for a particular concentration when dealing with the Lily of the Nile, which is also called African Lily. It can be preserved in two ways. The first is to use hanging baskets and containers. In that instance, it's essential to keep the flower in the shade while watering it at intervals.
On the other hand, you may want to grow this full-sun flower in warmer climes where you need to place it in pots, and water it at least twice a day.
The Verbena flower is perhaps one of the most recognized flowers that survive in the heat. That is tenable because of the abundance of the species, which are up to 250. Besides, it is a full-sun flower, which makes it ideal for many climates that fall in the ranges of USDA Zones 4 to 11.
Many people can relate to the beauty of the Hibiscus flower, but only a few can bear witness to its full sun designation. Indeed, Hibiscus is not only ideal for both the tropical and temperate climates, but can also thrive in a temperature that is above 100 degrees F.
Bottlebrush can thrive in both summer and colder zones. This large growing shrub can bring forth puffy flowers throughout the year while being compatible with different climates. For instance, you can grow it indoors for colder zones, while training it in large containers is ideal for summer.
You may just be unto the most significant realization of the century to discover that the Bitterweed is one of the flowers that survive in the heat. The exciting thing about it is that it can blossom in temperatures that are as high as 100 degrees F. That is not leaving out the fact that it can thrive in containers while bringing forth grassy, aromatic leaves that measure up to 1 foot wide and 8 inches tall.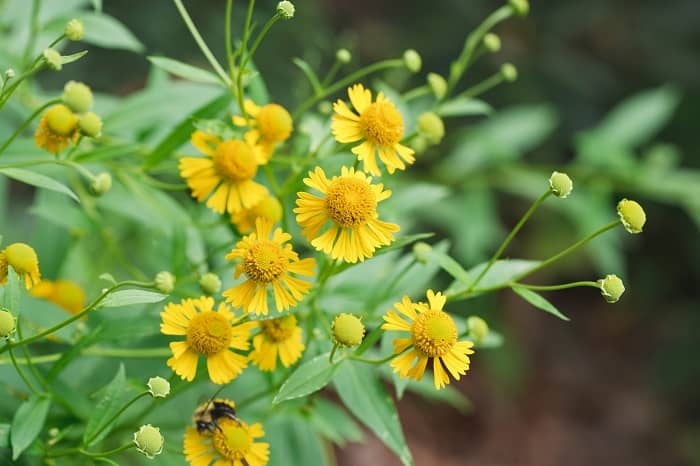 Some flowers are naturally disposed to grow in different conditions. That is why many gardeners have a hassle-free process when training Lantana. Lantana is a flower that has a natural disposition to thrive both in heat and in the chilly weather. More exciting is the fact that its formulation as an afternoon type of sunflower makes it ideal for immediate blossoming.
Above all, this tropical flower (Lantana) can grow all around the year in different variants, such as white, red, pink, orange, and yellow.
Blank Flower (Gaillardia)
Flower enthusiasts would certainly have no trouble in identifying the attributes of this flower. Gaillardia, which is also called the Blank Flower, does not only have a beautiful blossoming but also delegate afternoon shade in tropical summer to save the flower from withering.
Besides, Blank Flower, by its membership of the sunflower family, is fully resistant against drought and heat.
It's time to change the narrative that many flowers are not capable of withstanding the sun. On the contrary, many others out there can outshine the few flowers that cannot resist the sun.
Pentas has grown to become one of the flowers that are highly regarded because of the less susceptibility to the sun. Instead, it's a fierce heat resistant flower, which is best grown or trained in containers.
You may want to discover some of the potentialities of the Plumbago plant, which is famous for the minimal care required to train it in the tropical heat. Generally, it's advisable to grow it outside under the USDA Zone 9 to 11 climates.
Aside from that, Plumbago can also grow in colder zones. However, in that instance, you need to protect it in winters. If you're training it under the subtropical or the tropical heat, then you need to exercise as much care as possible to make it work.
One of the essential highlights of Portulacas is that it can thrive in annals except for tropical zones. Besides that, you can grow or train it in different places, such as in window boxes, garden, and hanging baskets.
Interestingly, Portulacas does not develop a thick skin against the sun by default. It is famed to be a robust plant, which is one of the reasons why it can thrive in both drought and tropical heat.
Think of a flower that can thrive in both the cold and hot weather conditions and the Gazania Hybrids would come to mind. Ideally, it can grow in dry, hot, and sunny areas. That is in addition to the varied colors (yellow, red, orange, bronze, and pink), and the 15-inch height after maturity.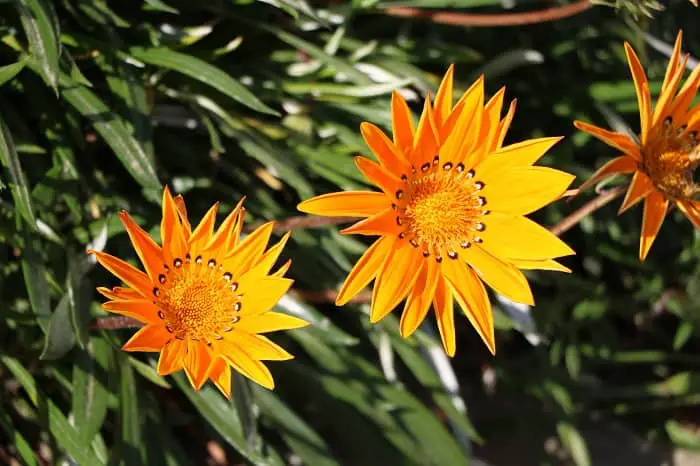 Grow Flowers that Can Survive in Heat
While some flowers find it hard to survive the harshness of the sun and other tropical and subtropical conditions, many others have and continue to be able to thrive in such circumstances. The essentiality of such plants/flowers is not unconnected to the need for bright and budding flowers even in summer.
So, you now have an idea of the flowers that can blossom in summer. Now, go ahead to share these ideas to inspire your family, friends, and other gardeners to plant flowers that survive in heat.