Last Updated on December 22, 2021 by Cristina
One of the most versatile materials in arts and crafts is cardboard, as you can design it to look like whatever you want. As long as you have the know-how, you can transform any room with cardboard, making it look stylish and warm, and you can do this with easy craft items.
You can start painting cardboard to look like wood, whether you're looking to make a modern décor or a rustic design. Regardless of what you're looking for, you can make your cardboard look like wood with this guide.
Why You Should Work with Cardboard
Cardboard is very easy to work with, as it is affordable for most people. It also has a flexible and versatile design, long-lasting construction as long as you purchase sturdy ones. With imagination on your side and our complete guide, you can enjoy working on drawing wood grain on cardboard.
Cardboard can appear a little plain if you want to change things up in your home. So while there are different things you can do with the unused boxes in your home, many people are hesitant to get started. This problem is solved by making it look similar to wood.
You might need to make your cardboard look like aged wood to give your room a homely look or polished wood for a more homely design. It also comes in handy when looking at Halloween decorations that might require wooden signs or cosplay swords.
How to Paint a Wood Effect on Cardboard: Easy Steps
Whether you are artsy or familiar with painting or not, anyone can follow these easy steps to make cardboard look like wood. Get the tools you need and get started.
After you have all your cardboard pieces, you can start making unique cardboard designs in your home or room. These ideas include bookends for your shelves, diaper boxes, letters on the walls, drawer dividers, and much more all-around your home.
What You Will Need
When drawing wood grain on cardboard, you can quickly get these items from an arts and crafts store close to you. You will need the following items:
Black paint
Black spray paint
Wide paintbrush
White paint
Thin paint brushes
Cardboard box
Plastic drop cloth
Krylon K02732007 Fusion All-In-One Spray Paint for Indoor/Outdoor Use, Matte Black
Step 1
Protect the surface you are working on with the plastic drop cloth. Whatever you want to protect from the paint, from furniture to decorations, ensure the fabric covers them. You can remove the plastic after your cardboard dries so you don't end up messing up the house while trying to make it look better. You can also do this outdoors or in the garage, away from the furniture in the home.
Step 2
Set the cardboard to face you like an easel would a painter. You can prop the surface you want to paint with the cardboard box, creating an inclined position.
Step 3
Take your black spray paint and apply a thin layer on the cardboard front. Ensure you are spraying narrow and inconsistent streaks so that the cardboard color is still showing.
Step 4
Take the white paint and the wide paintbrush. Then, dip the latter into the former and gently rub off the extra paint on the brush on a new piece of paper. The broad brush should only have a small amount of paint to give you light streaks.
Step 5
On top of the black background you painted before, you can paint long white stripes moving in the same direction. Think of planks when you paint this so that the distance between the strips will be similar to wood.
Step 6
Create more depth in the painting for a realistic look by emphasizing the spaces between the stripes. Then picking up the thin paintbrush, dip it into the black paint and make the space between the stripes look more profound with the paint.
Step 7
You can wash off the paint on the thin brush and dip it onto the white paint, properly defining the edges. When applying the paint, do so with the mindset of making each strip look like a piece of wood on its own.
Step 8
Finally, to realistically make cardboard look like wood, you can add small black spots on the white part. This makes it look like there are holes and knots in the wood, but don't make it obvious. You can apply the paint sparingly to get the needed effect.
Helpful Tips
When looking at how to paint a wood effect on cardboard, some helpful tips will come in handy. Remember that while your cardboard might look very similar to wood after following these steps, you can only use it for decoration purposes. It is inadvisable to use it as a substitute for wood because it is not strong enough.
Also, you can make your faux wood look more realistic by cutting out thin and narrow strips of cardboard. Then, attach these stripes to the larger piece of the wood, giving it a 3D feel. You should also paint them and glue them to the top, giving you extra texture on your faux wood.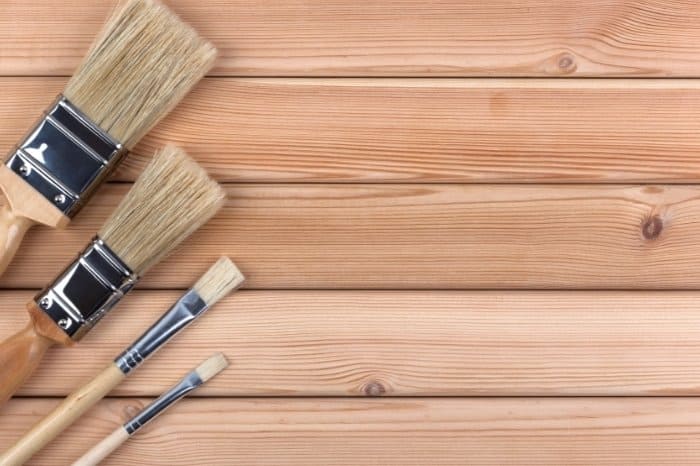 Rather than using standard brown, you can make cardboard look like wood even more with the right colors. You can check out brown tempura colors or look for other wooden browns that blend correctly. These colors include Burnt Sienna, Ochre, Light Tan, Umber, and more. You can combine these darker colors with lighter shades for a realistic look.
You can also save money on buying cardboard by reusing cardboard boxes, painting them to look like wood, and applying the design to your room.
Last Thoughts On Painting Cardboard To Look Like Wood
With knowledge on painting cardboard to look like wood, you can give your dorm, room nursery, living room, or any other space in your home an elegant look. This faux wood idea is more affordable than getting actual wood and helps you make use of all your cardboard boxes.
It's also a fun activity for yourself and your family. So, get your paint, paintbrush, and cardboard boxes to get started.