Last Updated on February 29, 2020 by Ecorf
Pops of color are very much in style, and turquoise is no exception.  Turquoise is a popular accent color due to its striking nature, however, the same thing that causes it to be so eye-catching can also make it hard to incorporate into your current decor.  Turquoise can be quick to clash with other colors or get overwhelming. So what colors go best with turquoise and how much is too much? There are a few ways to add turquoise to your home without creating a color war.
Accent Your Furniture
While an entire sofa or bedspread in turquoise might qualify as too much, you can add touches of turquoise to your existing furniture to incorporate a pop without overwhelming.  Check out a few of the below DIYs to see if one of these will work in your home.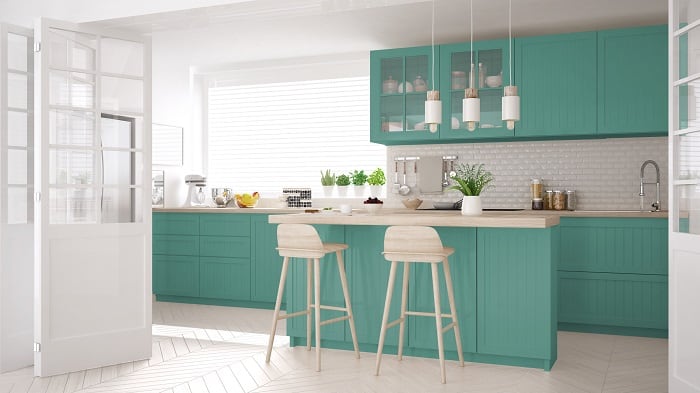 Color Dipped Bar Stools

: Brit + Co came up with this easy and low budget DIY to add a little color to some basic bar stools.  Using just some spray paint and some painter's tape, you can transform this household staple into a modern and intentional accent piece to your home.  Find some turquoise spray paint and try this on either a black, white, or light brown stool for a fun and unexpected pop of color in your kitchen or breakfast nook.

Turquoise Finished Wood

: Check out this YouTube video from Rustic Duck Furniture to add a distressed turquoise finish to your TV stand or maybe even your kitchen cabinets.  The purposefully distressed look tones down the turquoise and adds a unique flair to wood, without being too overwhelming. The darker brown stains will work well to downplay the turquoise on a larger surface like a kitchen cabinet or media stand.

Pillows!: Who doesn't love a good throw pillow?  Accent Pillows

are great noncommittal ways to add a pop of color to your living spaces.  In love with turquoise now, but not ready to commit to painting furniture? Try adding some true-turquoise throw pillows to an espresso brown couch or some slightly toned-down turquoise to a modern grey sofa.  You could even find some turquoise accent pillows for your bed if you must have turquoise beach vibes in your room but aren't sure if you can commit to an entire duvet of turquoise. Try a patterned pillow on a solid base duvet like grey or white, or add a solid pillow with some texture to add some dimension to your furniture.  
Turquoise Wall Features
The wonderful thing about wall decor is that it immediately catches your attention at eye-level.  Adding pops of color to a neutral is a wonderful way to add personality and texture to a room. Check out these DIY's below for a few unique ways to add Turquoise to wall in any room:
DIY Flower Wall: The wonderful thing about this DIY from Sweat Teal is that the flowers make the turquoise touch seem more natural.  Turquoise in its brightest form can get a little too sweet and a little immature if not used in textured ways. This flower wall in an excellent and grown-up way to incorporate both turquoise and texture in one piece.  It will look best on a neutral wall, like greys and beiges.  
Patina Copper Accents: While turquoise makes an excellent accent to neutrals, it also accents metallic superbly.  If you are looking to do a natural turquoise accent to a metallic,

YouTuber April Wilkerson

creates her own patina on some copper sheets.  In this video, she is looking to create roofs for birdhouses, however, patinaed copper looks great in many places in your home, but it makes for a very unique and modern rustic backsplash accent in your kitchen.    
Accent Mirror: Turquoise is a natural complement to copper, it also makes a wonderful accent to silver.  Sometimes a bathroom can require a pop of color to break up the monotone tiling, but painting the space may make it feel smaller and more claustrophobia-inducing. Mirror's in any space help to add light and airiness to a room, but mirrors have a special place in any bathroom.  Adding a turquoise frame to a bathroom vanity mirror can add a pop of color and help to brighten up your bathroom, without making a small space feel even smaller. Check out a few of these gorgeous options at Wayfair.
Add Some Fun to Your Floors
By nature, flooring is so often a neutral color that a turquoise area rug will complement perfectly without fear of clashing.  While sometimes too much turquoise in a smaller space can be overwhelming and seem immature, the larger the space you have the larger the pop of color you can display.  Adding a turquoise area rug will allow you to add a large swatch of color, but give you the chance to downplay it with another decor. A turquoise rug on a hardwood floor will look beautiful and not overpower the space when surrounded by neutral furniture.  Try this ombre turquoise rug over a hardwood floor with a white coffee table or couch and some metallic accents for an elevated beachy vibe.  
In a large space, you may be able to get away with adding a few other accent colors to compliment the turquoise.  If balanced well in a large neutral space, you could do this rug with a white couch and some dusty pink accent pillows or even accent chair.  In a large area, you can take a few more risks with color and your house will still feel elevated and mature.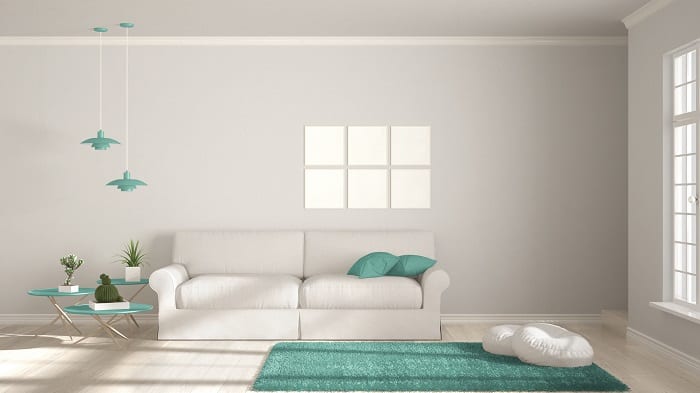 Turquoise is a trendy and fun pop of color that can really be added to any interior.  The key things to remember are to not overwhelm a space. You can do that by pairing your turquoise with surrounding neutrals in fun, unexpected places like accenting bar stools or in attention-grabbing eye-level wall decor like the DIY Flower Wall.  Just remember to balance the amount of turquoise to the size of the space to allow your pop of color to mature your decor, rather than overpower it.