Last Updated on February 20, 2020 by Ecorf
When you hear split level, you don't necessarily think luxury.  However, the split level is a popular home layout that has been around since the 1950's.  Whether you purchased a split level outright, or are looking to attach an addition to your home, there are several steps you can take to spruce up a split level.  One of the interior design challenges of split level is the choppiness of the layout. Due to the architecture, it can be hard to have a continuous flow of design from one room to the next.  However, there are many options to consider when looking at how to make a split level look better.
Create Flow with Flooring
A split level can often seem disjointed, with different spaces on different levels.  In the case where rooms do not have the modern open concept and an easy progression from one to the other, you can make sure to match up the flooring from one room or one level to the next.  Many split levels opt for wooden flooring in just a portion of the house, however continuing wood flooring will add a cleanliness and openness to a split level home.  
If you are considering going from carpet to hardwood, make sure you take a look underneath to check the existing flooring.  Chances are, the older the house the likelier it as that all you will need to do is refinish existing hardwood, instead of the costly project of adding new hardwood floors throughout.  If you are not lucky enough to have existing hardwood, but still looking to go with a lower-cost option, you can likely choose to lay laminate hardwood instead.
After the flooring is synced up between rooms or levels, you can give each space a pop of color and its own personality with an area rug.  
Make Your Entryway Pop
If your home splits right at the entryway, focus on making the entryway pop.  Entering a home right into stairs can feel disorienting, so you want to do what you can to make your foyer flow through to the rest of the home.  If possible, choose a banister instead of walling off your stairs. A banister, particularly a classic open wooden style or a modern cable one will create an airiness and open up an entryway with spit focus.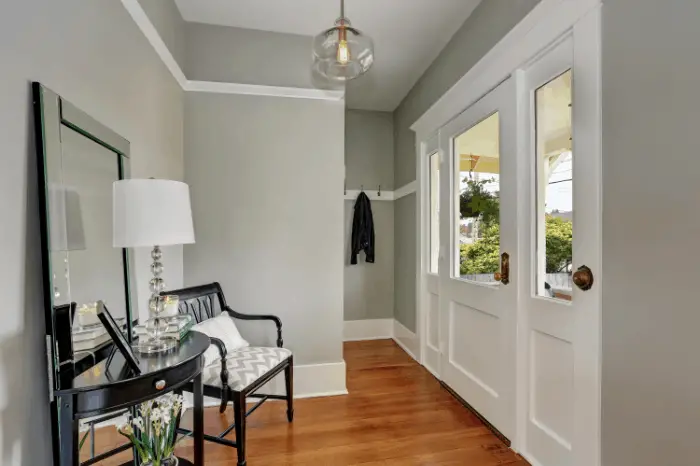 Similarly, you can decorate your walls surrounding the front door and going up and down the staircase with the same wall color.  While pops of colors can be stunning design features in more open homes, the entryway of a split level will get claustrophobic with too many different colors.  Keep the same color scheme from the front door leading both up and down the stairs, and your split level will feel more intentional, and less of a hodgepodge.  
Decor
Continuous decor pieces will do wonders for pulling together a split level.  Just as continuous flooring adds to the flow, decor reminiscent of another room will help to pull your house together.  You can do this in a few fun ways:
1. Wall Decor: As its at eye level, your wall decor will do wonders in creating a theme throughout your split level.  If you can find a photo series that you can split up amongst rooms, or simply choose all black and white photos in similar frames, you can tie one room to the next in a subtle and cost-effective fashion.  Black and white photos of the entire family can line the den while similar monochromatic prints of your home's happy couple can adorn the master bedroom, easily pulling together living spaces in a split level. 
2. Pre-curated Collections: If you want to guarantee flow and are having a hard time finding decor in the same style from room to room, consider looking into a designer collection.  You can pick your favorite HGTV or DIYNetwork star and look into a collection. Joahanna and Chip Gaines of HGTV have their own curated collections available for sale at Target, or even Bobby Berk of Queer Eye fame is launching his own collection in Asia and North America shortly.  If you know your design aesthetic you want to include in your home and it is influenced by any major stylist, chances are you will be able to find pieces for every room that will tie into one another. 
Exterior Spruce Up
Generally, when split-level comes to mind, so does a mismatched exterior.  Many of the split-level homes that haven't had their modern touch up quite yet, include mixed mediums of brick and wood or plastic siding that add to the hodgepodge perception of the split-level.  If you are looking to make your split-level have some more curb appeal, here are a few things you can do:
1. Siding: In order to make your split level look intentional and inviting, rather than messy and dated, you may want to invest in siding that continues throughout the entire exterior.  By picking a single color and medium, this will help to give your home a solid, uniform appearance that will make it seem larger from the outside. If you are running a redesign on a tight budget, consider at least making the exterior one single color (with the exception of accent colors) to give a split-level a little more flow.
2. Windows: If you have new windows in your budget, considering replacing all exterior windows with similar styles.  You want to aim for larger windows that will add character to the exterior, and sunlight to the interior, making the entire house feel more open.  
3. Exterior Style:  If new siding, painting, and windows aren't in your budget to spruce up your split-level, have no fear!  There are some lower cost and lower labor options to make your exterior flow. You can choose to put window planters across the entire front exterior and tie them in with similar planters and flowers at the front door.  Whatever you can do to your exterior to make any mismatched sections flow together, go for it!  
The keyword for how to make your split-level look better is: flow.  Whether interior or exterior, any improvements you want to make should attempt to tie one room into the next to combat the choppiness that can be associated with a split-level.  Inside you want to take your flooring and walls as an opportunity to make your spaces as seamless as possible. The same goes for your exterior. Your main goal when improving and modernizing a split-level is to take color and texture from outside to inside, and from one room to the next.  Doing so will create a cohesiveness and make your home feel more open and inviting.