Last Updated on January 16, 2022 by admin
Have you wondered how much does it cost to add washer and dryer hookups? The best way to ensure your laundry room is fully equipped is to go for a washer and dryer hookup, which requires some changes to your plumbing system and professional installation. Because of this, homeowners are usually wary of the cost to add washer dryer hookups.
If you're one of them, continue reading our complete guide below on the costs and installation of washer-dryer hookups.
What Is A Washer And Dryer Hookup?
This is the connection required to run your washer and dryer. If you are told that a washer and dryer hookup is available, this means that all the plumbing and electrical requirements have been put in place. All you need to do is hook up your washer and dryer and start using it.
But if your home does not come with a washer and dryer hookup, you will need to hire a professional service to get this done and connect your appliances to the system.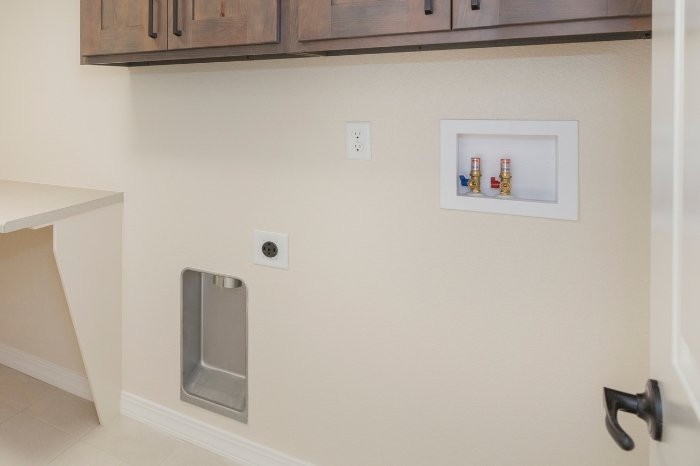 Who Do I Call For A Washer and Dryer Hookup?
Another question that homeowners usually have is who installs washer and dryer hookups. You can call a professional plumbing service to get the washer and dryer hookup done. When hiring a plumber, you should consider various factors like the experience and how long they have been in business, if they have worked on washer and dryer hookups before, and their online reviews.
Thus, you can check out the different plumbing services close to you, compare their prices and quality, and choose the one that offers more value for your money. If you need to set up the washer and dryer connection, it's advisable to hire a professional and avoid following all the DIY steps that you see online. This way, you can keep your plumbing system intact even after the installation and avoid damage to your home.
While a washer and dryer hookup seems easy, it requires taking the appliances up and down the stairs, checking the electrical outlets, changing the water lines and plumbing system to prevent flooding, checking the exhaust vent, and preventing gas leaks. If you make a mistake, you can cause damage to your home or your new appliances.
Click here to learn about:
How Much Will I Spend On A Washer And Dryer Installation?
The cost to install washer and dryer hookups depends on different factors, and can range between $400 and $2000.
If you're installing the connection less than ten inches from the electrical panel and plumbing lines, and close to an exterior wall, this is the ideal situation. Here, it can cost between $400 and $800 depending on the service you call and the situation of your plumbing and electrical systems.
Eastman 60245 Washing Machine Outlet Box
But, if the laundry room or area is very far from the electrical panel, water lines, and an exterior wall for venting, you will have to spend as high as $2000. This is because it will be more difficult for the plumber to install this. The costs can also go higher if you need to replace the plumbing system, make holes in the walls or flooring and then restore them, add additional circuits, and more.
To add a new electrical outlet, you can spend between $75 and $800 depending on the type you buy and where you put it. If you upgrade the whole electrical panel, it costs between $1500 and $4000. Then, you might also need to install a new dryer vent, which can cost from $150 to $500. Gas lines are also required if your washer and dryer run on gas, and installation can cost up to $250 for ten feet and $750 for thirty feet.
Read more about Tricks On Painting Cardboard To Look Like Wood
Do I Need A Permit To Install A Washer And Dryer?
When considering a washer dryer hookup installation, you might need a permit in some cases. Since installing a washer and dryer hookup involves electrical and plumbing work by a professional, you need to apply for a permit from the government. That way, you don't get in trouble with the installation.
Before installing specific systems on the interior or exterior of the house, it's usually important to collect a permit, although how to do so differs from city to city. You can check the rules in the city that you live in or ask your house owner if you are a tenant on whether you need a permit.
Pros And Cons Of Washer-Dryer Hookups
While there's a lot to benefit from if you install washer and dryer hookups in your home, there are also a few downsides to being on the lookout for.
Pros:
It Makes Laundry Easier – Laundry is one of the most important things to do in your home, after all, how else will you get clean clothes. With a washer and dryer connection, laundry becomes much easier.
It Saves Energy – Since the two appliances are connected, you can save energy rather than use them separately. It also saves you the stress of looking for a Laundromat in your neighborhood.
It Gives You Privacy – Doing your laundry in the comfort of your home gives you privacy unlike doing it in public places where others can see you. You can wash and dry your clothes in your laundry room.
Cons:
It Is Complicated to Install – You need to consider different factors when installing the hookup like your electrical panel, plumbing lines, and the appliance you purchased. Choosing the right plumber also matters, and you need to consider the costs. The good thing is that once you do it, you can forget about it.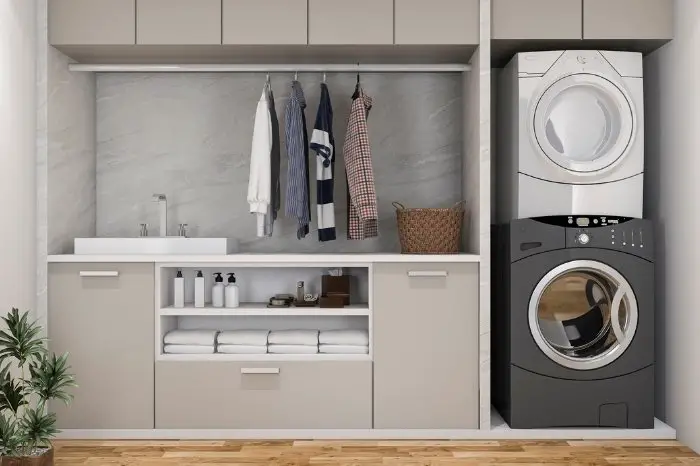 Cost To Add Washer and Dryer Hookups Conclusion 
The cost to add washer dryer hookups can be overwhelming for some, but you can simply look for ways to cut costs without affecting the value of the service. You can do so by hiring the best plumbing service and looking out for their discounts, and set your laundry room in a place close to the electrical panel and water lines.
While it might seem expensive, there are a lot of benefits to look out for and you no longer have to worry about stressful laundry. You can get started by doing your research on the best plumbers around you and asking for a consultation.