Last Updated on December 10, 2021 by Cristina
A closet is supposed to be one of the stylish locations in your home. There are closets without doors and there are closets with ugly doors. Not everyone sees the need to style up or beautify their closet. So if you find yourself here, you've decided to get ideas for closets without doors. Spice up your closet by replacing the regular doors with awesome alternatives.
The conventional types of closet doors are hinged doors, mirror sliding doors, the wooden sliding doors. You should be tired of having those regular door types. Why not go for some stylish closet door alternatives? These new closet door ideas give you a chance at personalizing your walk-in or reach-in closet.
Here, we have put together some wonderful ideas on how to cover a closet without doors. Those who enjoy DIYs can try out some of the options mentioned below. It is important to note that these ideas are not just a means to cover your closet. They are decors that add color and beauty to your home.
Check out some of our interesting closet door ideas.
Awesome Closet Door Alternatives
Use Curtains
This is more like a unique design than a door. So if you want something a stylish look like your closet door, you should go for this. Curtains do the job of a door as much as the typical doors. They help you hide the content of your closet and give a luxurious look.
Accessing the items in your closet will be easier and faster with curtains. You can pick out the curtain that best suits your style and taste. Combining some of your favorite colors and fabrics will make your room look more aesthetic.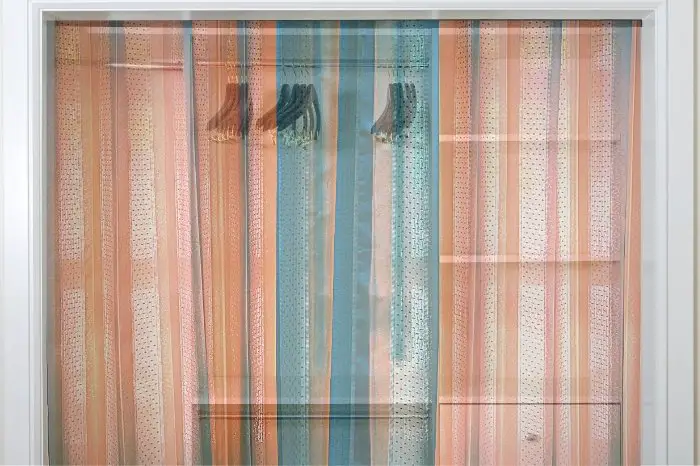 Beads are Beautiful – Ideas For Closets Without Doors
The use of beads was not as common as it is now. Bead doors are comprised of strings of beads of different colors and shapes. Some of the bead doors have great patterns and colors. They play the role of a barrier and closet door perfectly.
You can easily access your closet at any time when you install a bead door. Moving the clustered bead out of your way will reveal your closet. If you're looking for something out of the ordinary, go for this bead closet door. There are different styles and colors, so get something really pretty.
Pocket Doors Are Stylish
If you're looking at saving up some space in your room and closet area, use this pocket door. This type of door works perfectly for confined spaces thanks to its ability to slide into your wall. Pocket doors are quite popular for closets door ideas.
The installation of this door is quite strenuous and difficult. A professional would be needed to do the job because it requires wall drilling. You can move the door out of your way into the wall to complete access to your closet.
Swinging Doors Works Too
This closet door is usually referred to as a saloon door or café door. Those with large closets will enjoy this swinging door because they can freely push the door to access the closet. If your room looks cramped, go for this swinging door.
SMARTSTANDARD 6.6ft Heavy Duty Sturdy Sliding Barn Door Hardware Kit
Swinging doors as style to your bedroom and closet area. The best part of using this closet door is that they close themselves. You don't have to go back to ensure it's closed. You have the option to hold them open until you're done picking things you want from your closet.
Louver Doors
If you want a door that opens to the side, get a louvered door. Anyone can easily access the closet and reach every part of it. The door resembles a shutter, and it is similar to an accordion closet door. The items in your closet get enough air and light with this type of door.
You can add some detail and design to the door by decorating the panels. This closet door is made of wood, and it is easy to maintain.
Room Dividers
The divider helps in hiding the contents of your closet without the use of typical doors. The divider stands perfectly on its own without any support. It stands a barrier between your bedroom and the closet. You can go behind the room divider to access your closet conveniently. This divider is popular and can be found in many homes. It also serves as a means of privacy and allows people to change without prying eyes.
Mirrors are Great
Use this mirror closet door to reflect the décor in your room and closet. You get better light reflection and openness with the door. It brings some sense of luxury and style to your bedroom. This closet door serves two purposes; it acts as a mirror and as a closet door. You do not need to get another mirror if you're going for this.
Bi-Fold Closet Door
As one of the most popular closet doors, this bi-fold brings a basic style to your bedroom. It is used in cases where there are limited spaces in the bedroom. You have the chance to decorate and paint the door as you please. Install the wood in geometric shapes to create a modern look. The door doesn't take too much space on the floor, and they're affordable.
Industrial Chic
This type of closet door is great for small spaces because it takes only a small amount of space. For the industrial vibe and a masculine look, go for metal sliding doors. These doors are very modern and they add a cool vibe to your bedroom. It works best for men who are cool with simple closet doors.
Modern Glass Door
If you're dealing with contemporary or minimalist décor in your home, then you should go for a modern glass closet door. The glass is frosted and it is very popular among those who enjoy concealing space. Give your bedroom a different look with this door. You can also use layered glass panels and frame them with woods that are similar to traditional doors. An acrylic option will help extend the duration of the door.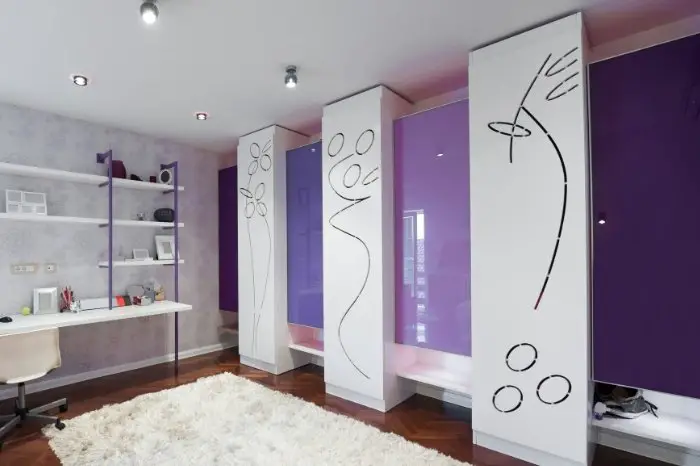 French Doors
This type of door never goes out of style. It opens outward into the room and leaves the right amount of space to access the closet. Add molding to the closet door and frame them better. You'll get the chic feature desired by designing and painting it.
Verdict
Closet door alternatives have gone past the usual ideas we know. New styles appear on the internet every day so you have a wide range of options to choose from. Curtains, beads, folding screens, and others mentioned above will do a good job of creating a barrier. When it is time to restructure your closet, go through the list above for easy decision-making.
Did you enjoy our piece on how to cover a closet without doors? Would you suggest our closet door ideas to your friends and family? Please share your thoughts with us and share the article with your friends.